New to Our Savior?
New to Our Savior?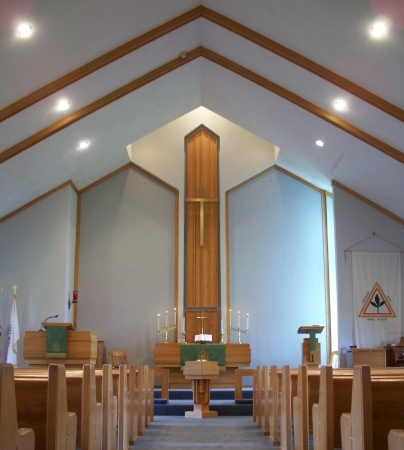 Hi!

I'm glad that you are taking a minute to check us out. Please continue to look around to find out more about us. Got a specific question? Email me, and I'll get back to you.

At Our Savior, we proclaim that Jesus is our Savior. He has won the victory by conquering sin, death, and the devil at the cross, and he gives to us the free gifts of forgiveness and salvation. We daily celebrate that victory and enjoy the blessings that our Savior has for us now and for eternity.

Come and see us to learn more about your victory in Christ our Savior!

Pastor Dave Backus





What can I expect if I decide to visit Our Savior on Sunday morning?
Every church has its own style of worship. We think you'll grow to enjoy the services at Our Savior, but as in any church, you should expect it to take a little getting used to our way of praising God and proclaiming what he has done.

As you walk inside the doors, you'll receive a worship folder. Everything that will happen during worship will flow exactly as printed, so you don't have to worry about being caught off guard or put on the spot.
The only parts of the service that won't be printed in the worship folder will be songs that we sing from one of our two song books. The worship folder will indicate for you when that happens.
If you are church shopping and would like to merely observe, you are welcome to do so.
Our services focus on readings from the Bible which center on the life of Christ and our life as Christians. Those readings will be printed out in the worship folder for you,
but if you have your own Bible, you are certainly welcome to bring and use it too.


The sermon, hymns, prayers, music, and singing revolve around the Scripture readings each week. Music certainly is an important part of our services. But that doesn't mean everyone is a great singer or musician. That's ok. We sing God's Word and praise him and we know that it is music to his ears. The songs we sing are chosen primarily for the words they contain, but you'll become familiar with many Christian melodies too.

"I rejoiced with those who said to me, 'Let us go to the house of the LORD.'" (Psalm 122:1)
Here's a brief outline of our services, expressed in a variety of ways from week to week:

The Invocation - We call on the name of our Savior God as we praise him.

Confessing sins and hearing God's forgiveness - Together we acknowledge that we have not always done what God asks. We reflect on the wrong we've done against God and others. Then we are assured of forgiveness because of what Jesus Christ has done for us. (This will be printed out; you will not be put on the spot.)

Bible Readings - We hear selections from God's Old Testament prophets, Jesus' apostles, and from Jesus himself in the Gospels. The pastor also gives a brief explanation of each reading.

Sermon - Our pastor offers instruction and encouragement in a Bible-based sermon. We hear how we can expect God's guidance and grace for dealing with problems, as well as the promise of eternal life in heaven through Jesus.
Response to the Word - We respond with offerings, hymns, and prayers for the things God has promised to us and for strength to do what he has asked.

Parting blessing - We hear one last assurance of God's care.

Mixed throughout these different parts of our service are hymns and short songs to praise God.

Our worship uses traditional forms and modern language and application. The traditional brings us the best from God's Church throughout the ages, and the contemporary brings God's promises and his will into our daily lives. We know you will come to appreciate and be edified by both!

Come join us to learn more and to worship Christ our Savior!