History
History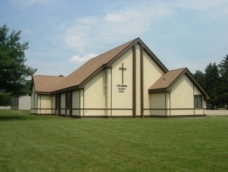 In the early 1980's, a group of about 48 people who belonged to Salem Lutheran Church, a member of the Lutheran Church-Missouri Synod (LC-MS) in Springville, New York, began to question some of the teachings that were being presented by the LC-MS at the time. They felt that the pure Word of God was no longer preached or taught at Salem Lutheran Church.

One of the parishioners contacted the pastor of the Wisconsin Evangelical Lutheran Synod (WELS) church in Rochester, New York. His name was Mark Gieschen, and he agreed to come to Springville and hold an open forum at the Town Hall for anyone interested in hearing about the WELS teachings from the Bible.

Many people attended, and their interest sparked the WELS to propose an exploratory mission here in Springville. As a result, those dissatisfied with Salem began attending classes in the basement of one of the parishioner's homes. We learned about the teaching and decided to join that synod. Our name would be Our Savior Ev. Lutheran Church.
It was then that we agreed to rent the VFW Hall on Mechanic Street to serve as our "church" for the time being. As we grew, we decided to call our first pastor, Bruce Becker who began his ministry in July of 1982. We continued to hold our services there until we bought land and began the original building that was erected in 1986 and dedicated on February 2nd of that year.
Our congregation grew and we had many programs started for the preaching and teaching of God's Word in its truth and purity. Pastor Becker was called to a Wisconsin church, and we called our second pastor, Brett Voigt, who served us for the next eight years as we continued to grow. He was called to Ontario, and later our third pastor arrived, Steven Neumann. He stayed for ten years and then left in August 2006 to accept a call to a church in Kenosha, Wisconsin. Our fourth pastor, Daniel Walters, whom we called in August of 2006, served us until October 2011. Pastor Tom Hilliard served us during our vacancy until Dave Backus, our current pastor, arrived in July 2012.
Over the course of the over 30+ years of our existence, we have continued to serve the congregation with opportunities for worship, Sunday school, Bible studies, a Women's Guild, events for children, counseling, VBS, and other programs to offer to the community at large.

Our prayer is that we may continue, with God's blessing, to carry out the work of his great commission as we look to the future here in Springville. We thank and praise God for all of his blessings to Our Savior Ev. Lutheran Church.